Ажурная ваза, серебро 800*, вес 510 гр. Mayer Ad. Frankfurt am Main, Германия.
Вазочка АНГЕЛОЧКИ, ажурное серебро 800-й пробы, вес 317гр. Германия.
Чайник, изготовленный из серебра 800-й пробы, вес 1250 гр. Германия.
Ваза для фруктов, серебро 800*, вес 293 гр. Германия.
Блюдо из серебра 800-й пробы,вес 308 гр.,Германия
A pair of Swedish 19th century parcel-gilt bowls, makers mark of Gustaf Möllenborg, Stockholm 1894.
A pair of Swedish 19th century silver candelabra, makers mark of Gustaf Möllenborg, Stockholm 1864.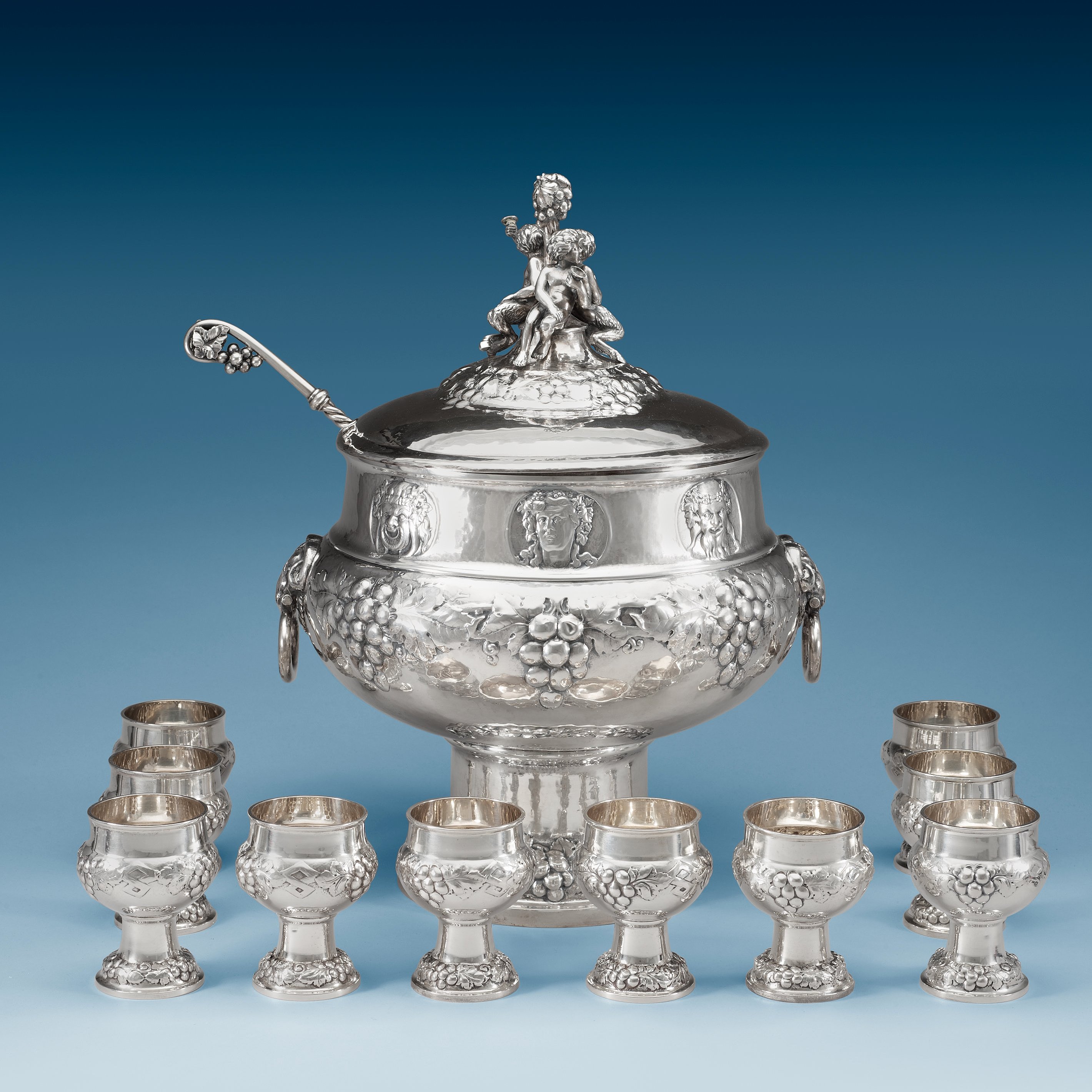 A Norwegian early 20th century parcel-gilt punsh-bowl, makers mark of M. Aase.
A Chinese silver tea set, late Qing dynasty, end of 19th Century. Marked WH 90. Presumably for the Wang Hing & Co in Hong Kong. Richly decorated in relief.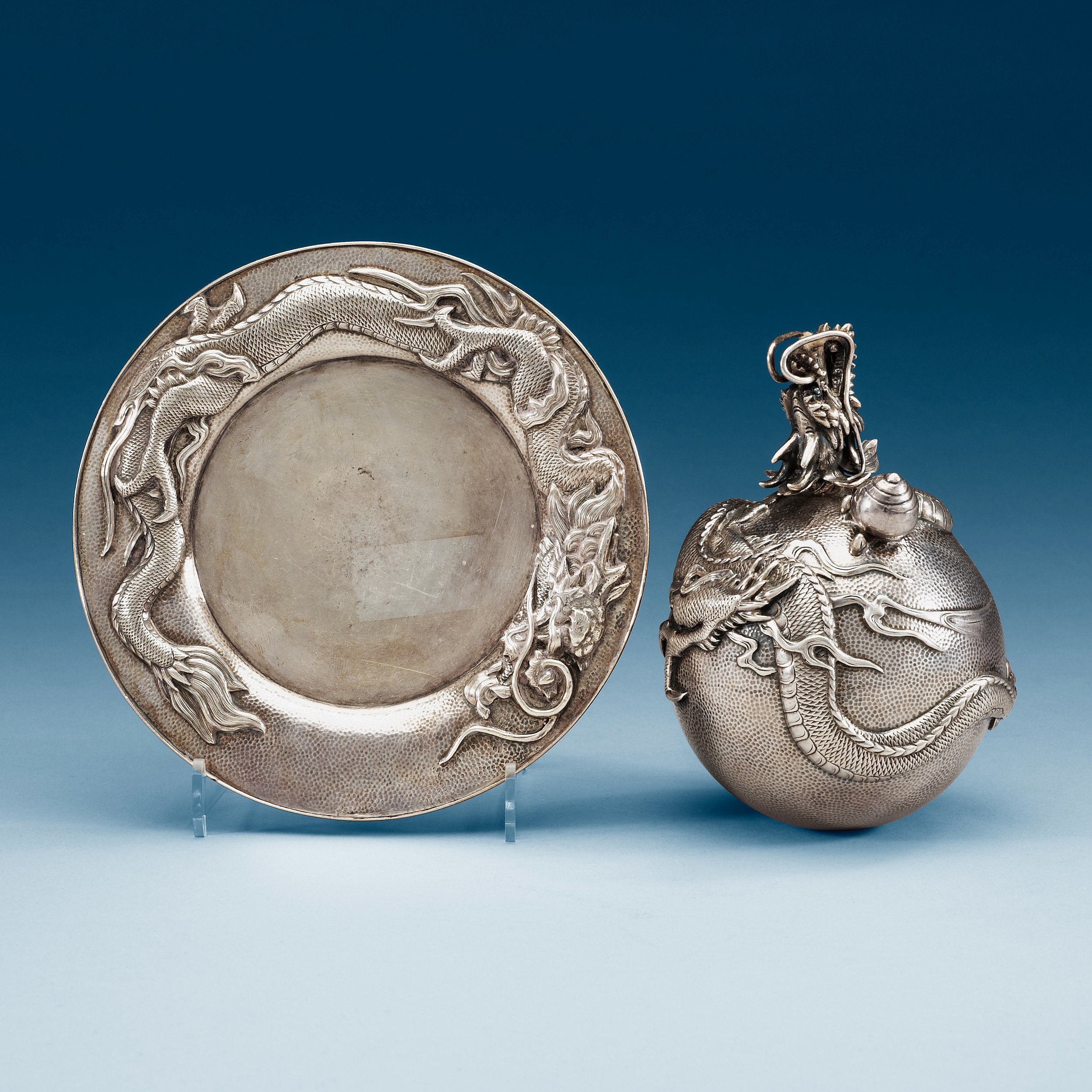 A silver oil lamp on a stand, Shanghai around 1900.A dragon around the flaming pearl.
A pair of French late 19th century silver and glass wine-flagons.
A Swedish 18th century silver coffee-pot, makers mark of Zacharias Ekfelt, Arboga 1771.
A Russian 19th century parcel-gilt tea-jug, makers mark of Alexander Korder, St. Petersburg 1840.
SOCKERSKRIN, av Arvid Floberg, Stockholm 1766. Rokoko.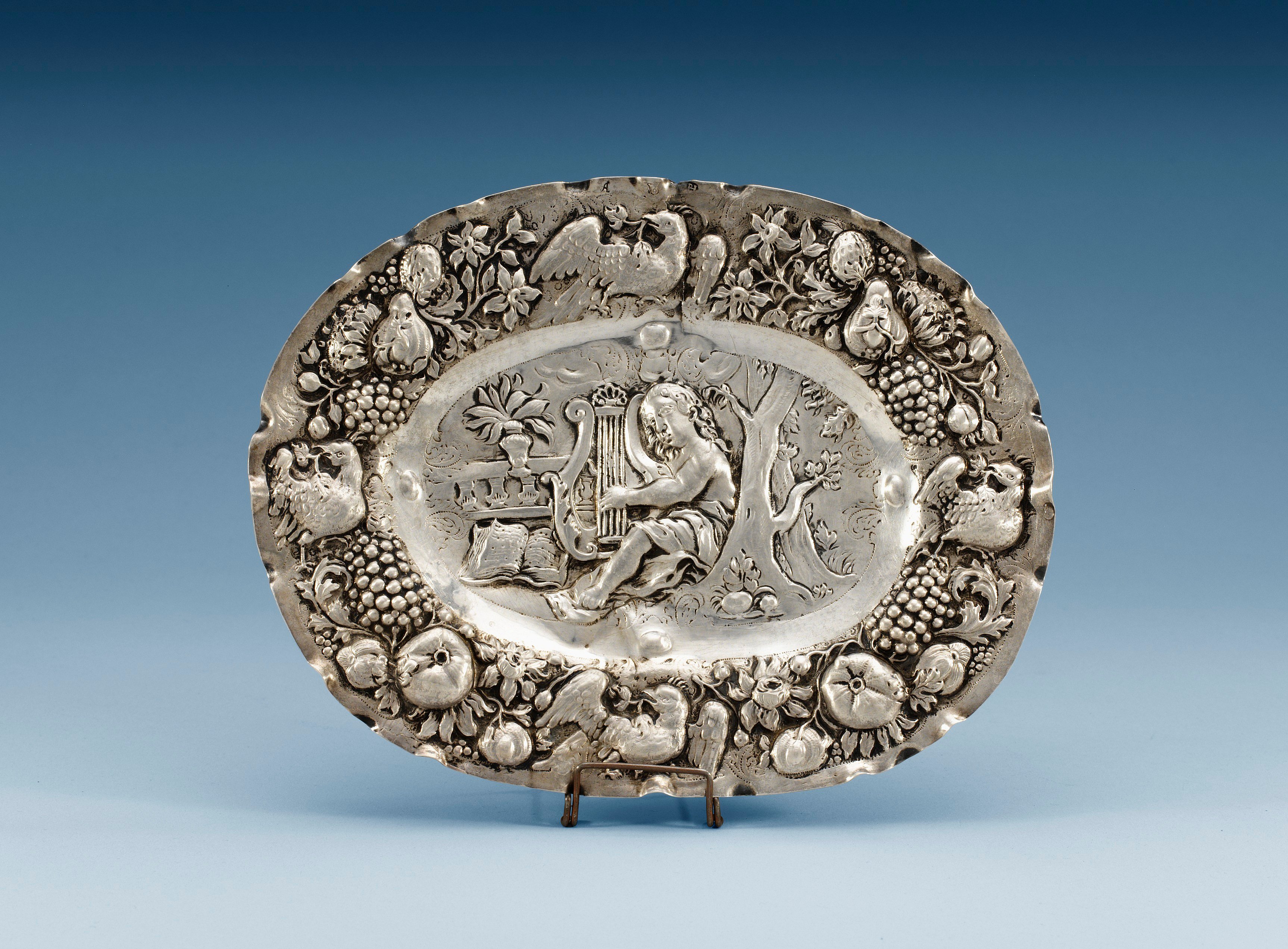 KONFEKTFAT, av Petter Henning, Stockholm 1713. Barock.
DRYCKESKANNA, av Johan Wefwer, (verksam i Linköping 1672-1705), daterad i gravyren 1673. Barock.
DRYCKESKANNA, otydlig stämpel på lockkanten, Tyskland 1600-talets början, omstämplad av Niclas Fernlöf, Karlstad 1751
A COFFEE SERVICE, 3 pieces. Marked FIB France around 1900
A COFFEE POT, silver. Olof Robert Lundgren Turku, Mid 1800 s. Weight 446 g.
A CREAMER, Lorens Stabeus, Stockholm 1778.
A Greman parcel-gilt tankard, makers mark possably Arnold Lange, Danzig (1699-1724).
A Polish 17th century parcel-gilt tankard, makers mark of Melcher Jaske, Gedansk (1664-1678).
KANNA, av John Samuel Hunt, London 1853
KAFFEKANNA, av Hans Christopher Alsing, Göteborg 1778, päronformad, tre utsvängda ciselerade bladfötter med anfanger, livet med driven och ciselerad blad- och blomdekor, blad- och rocailledekorerad snås, runt mynningen pärlstav, hjälmformat lock med ciselerad rocaille och liggande blombukett
SOCKERSKRIN, av Anders Schotte, Uddevalla 1772
NAUTILUSPOKAL, fantasistämplar, Tyskland 1800-talets slut, snäckan uppburen av kvinnligt sjöväsen på en sköldpadda, dekor av figurer, blomfirlander och insekter samt överst Neptunus ridande på en sjöhäst
ÖLKANNA, av Joseph Angell I, London 1824, cylindrisk på insvängd fot, välvt lock, heltäckande punsad reliefdekor av musslor, akantus, blommor och rocailler, svängd hänkel, på livet kartusch med graverad crest
VAXSTAPELSTÄLL, av Eduard August Bauer, Reval 1848, klotformad på tre volutfötter, dekor av svängda knäckar, voluthänkel
TEKANNA, av Andreas Röymand, Köpenhamn 1782
LOCKBÄGARE, av Johan Friedrich Straub, verksam i Karlstad 1674-1713
LOCKPOKAL, fantasistämplar, Hanau 1800-talets slut, holländska importstämplar, kopia av 1500-talsbägare, sexpassformad kuppa och lock, cylindriskt skaftdekor av drivna bucklor, rund fot på tre lejonliknande djur, dekor av genombrutna bårder i gotisk stil, invändigt förgylld
ANANASPOKAL, oidentifierad mästarstämpel Rosenberg 4271, Nürnberg omkring 1700, delvis förgylld, stämplar på lock, kuppa och fot, skaft i form av stående figur, fot och lockdekorationer av blad och blommor
A Swedish century silver sugar-bowl, makers mark of Adolf Zethelius.
вот